Published on
Wed, 11/23/2022 - 12:47 PM
! WARNING! To trick people into responding, scammers sometimes use publicly available information to send text messages to employees using an unfamiliar phone number and claiming to be someone of importance in the organization. During the ongoing text exchange, the attacker attempts to get the recipient's personal information or get the recipient to purchase gift cards. If you suspect a text to be fraudulent, do not proceed with the directions provided in the text.
Below is an example of a common text message using this trick.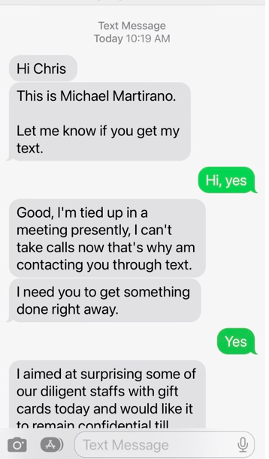 Employees may want to review and limit their mobile contact sharing settings on social media apps. Attackers often use social media to associate victims' cell phone numbers with their employers to conduct these attacks. Fraudulent activity can be reported to wireless providers by forwarding the message to 7726 (SPAM).
To better protect your HCPSS account, sign-up for Multi-Factor Authentication. Learn more about phishing attacks on the Technology Support Canvas community. 
If assistance is needed, contact the Technology Support at TechSupport@hcpss.org.