The Get To Know series was created to help staff learn more about HCPSS leaders in schools and offices with whom they may not typically interact. HCPSS leaders answer a mix of personal and professional questions in an effort to let all employees get to know them better.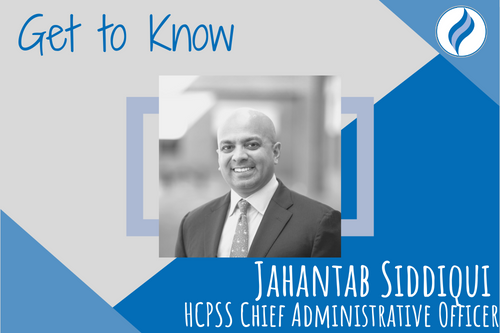 Why did you choose to work in education?
As a student at University of Maryland, I led lobbying efforts to improve access to education and that fueled my passion to get involved in public service. That led to a career in public policy at the federal, state and local levels and in each of those roles, the most rewarding work I did was around education initiatives and I believe I have now come full circle.
While I'm not an educator, my job is to ensure that our educators, support staff, administrators, and students have the resources, services and access they need to ensure a high quality of education and supports. Whether it's enhancing existing programs or supporting a new program, opening a new building, or even navigating an emergency situation, I get to see the positive impact of our work every single day. 

What is the best professional advice you've ever received?
Senator Barbara Mikulski had some of the best guiding principles and I continue to use at least three of them on a regular basis:
Always be clear about "What is the objective we seek?"

We cannot always guarantee an outcome but we must guarantee an effort.

Do not explain an abstraction with an abstraction.
What is something you like a lot that would surprise people?
Ketchup on pasta. I will probably regret putting this in writing. 

What is on your bucket list?
I love music and would love to learn to play the guitar.

What is the most interesting place you've ever been?
Rio de Janeiro. Beautiful city with a lot of culture, history and amazing food. I would love to go back and spend some more time there.