Published on
Thu, 08/25/2022 - 2:49 PM
Welcome to the Staff Hub! We hope the information below is helpful in understanding this platform. Please email webmaster@hcpss.org with any questions.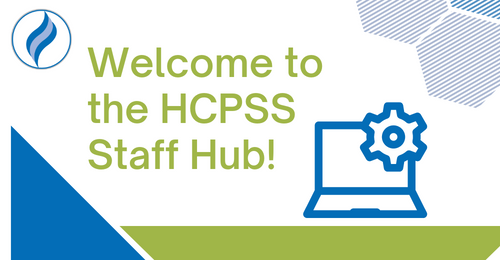 Who is the Hub for?
Information posted to and shared from the Hub is geared toward all HCPSS staff, and at certain times toward specific staff groups. Please be aware that the Hub is a public-facing website and does not require a staff login to access links and/or information.
 
What is the Staff Hub?
The Hub is the home for all your staff needs, including links to information and resources, and non-emergency news. Features include:
Drop-down menu: Select Instruction or Services for links to many websites and resources.

Featured Applications: Quick links to the most commonly used staff applications.

News: Important information for most or all HCPSS staff. Items posted as News generate an automatic email to all staff shortly after posting.

Circulars: Provided to ensure staff awareness of the latest policies and procedures. Items posted as Circulars also generate an automatic email to all staff.

Vacancies: View the latest HCPSS job postings.

Resources: Links to additional information, including Canvas pages, employee well-being, staff discounts and more.

Where can I find the Hub and related resources?
The Hub is available directly at https://staff.hcpss.org/. Items posted as News or Circulars automatically generate an email to all employees. All other features, including vacancy postings, are available on-demand by going to the Hub. 

When is information available in the Hub?
Resources and information are continually updated, as needed.

Why does HCPSS have the Hub?
We want to make it easy for staff to access the information and resources they need. Additionally, the functionality of the Hub allows us to seamlessly email all staff with important news.

How do I provide feedback on the Hub?
The Staff Hub is managed by employees in the Office of Multimedia Communications and School Support. The best way to report issues or ask questions is to email webmaster@hcpss.org.